YasuoRed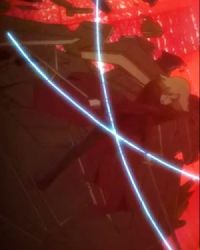 YasuoRed
Season 7!
Level: 45 - Jonin
Pirates Village Village


- The Village Hidden in Rum -
Doujutsu: 33 (+1)
Range: 1-22
Genjutsu: 15 (+12)
Strength:+8 Range: 1-35 Successes: 1
Ninjutsu: 15 (+13)
Strength:+9 Range: 1-38 Successes: 1
Taijutsu: 15 (+13)
Strength:+11 Range: 1-36 Successes: 1
Notice: Information on this is solely the responsibility of the player.
Character Description
His true identity is unknown. He changes shape when he wishes.
History
He joined BvS in 2009. He was originally a member of Jeuno Village. When that village exploded, he entered the AlTaieu, Immortal Realm of the Kaiju Garahs. After a time of little activity in the village, AlTaieu disbanded and YasuoRed moved to Pirates Village with Garahs and mckenzie.
Bloodlines
Legacy of the Hero
Eye of the Storm
Wasteland Disease
The Power of Greass
Allies
Techniques and Jutsu
Soul Reaper Style: Póg Mo, Thóin!
Projectile Weapons: Kunai
Clone Jutsu
Escape Jutsu
Projectile Weapons: Shuriken
Disguise Jutsu
Sexy Jutsu
Exploding Tags: Activate
Twin Rising Dragons
Shadow Imitation Technique
Windmill Triple Attack
Fire Style: Fireball Jutsu
Fire Style: Phoenix Flower Jutsu
Human Juggernaut
Primary Lotus
Leaf Hurricane
Blizzard Jutsu
Shadow Shuriken Technique
Shadow Clone Jutsu
Human Needle Boulder
All Fours Jutsu
Piercing Fang
Earth Style: Groundhog Technique Decapitation
Killer Kancho
Leaf Whirlwind
Hidden Lotus
Puppet: Salamander
Puppet: Crow
Puppet: Black Ant
Mind Body Switch Technique
Dust Wind Technique
Wind Release: Severing Pressure
Great Wind Scythe Jutsu
Flying Thunder God Technique
Summons
Sickle Weasel
Items
Shuriken: 591
Smoke Bombs: 567
Medicinal Herbs: 181
Potion Base: 574
Bitter Powder: 4
Filtered Thread: 166
Holy Arrow: 60
Copper Shaft: 22
Reflector Shard: 23
Perfect Gear: 3
Metal Rivets: 1
Wasteland Rebreather: 14
Ceramic Tile: 14
Indestructible Thread: 7
Boring Bulb: 1001
Silver Coin: 13
Wooden Tile: 23
Acid Vial: 79
Pigeon Chunks: 126
Basic Polearm: 1
Smokeblossom: 263
Monochrome Flower: 30
Exploding Tags: 2388
Shogi Piece: 6
Crumbling Minerals: 32
Kunai: 565
Silver Petals: 156
Threadbare Robes: 9
Copper Ring: 9
Metal Scraps: 39
Worthless Rune: 19
Steel Tile: 3
Average Gear: 15
Curved Blade: 2
Broken Machinery: 7
Tangled Metal: 4
Cracked Gear: 10
Broken Spyglass: 14
Sharpening Stone: 9
Burnt Scroll: 7
Cobalt Shaft: 3
Curdled Powder: 330
Essence of Earth: 7
Essence of Fire: 1
Essence of Lightning: 1
Essence of Water: 1
Essence of Wind: 1
Wasteland Dust: 13
Food Pills: 954
Powerful Potion: 105
Roll of Tickets: 4
Cracked Vial: 15
Blackened Dust: 8
Dustpile: 15
Cracked Glasses: 12
Copper Coin: 20
Silver Pole: 1
Fanboy Shirt: 21
Rubber Bits: 12
Regular Fur Piece: 6
Wampus Pelt: 8
Furry Swatch: 7
Quality Fur Piece: 1
Small Emerald: 15
Ebony Sand: 11
Dark Water: 17
Dayshade: 15
Nightshade: 11
Green Potatoes: 188
Mystery Meat: 231
Ashen Film: 1
Billy Bucket: 13
Invisible Sandwich: 17
Twigpile: 60
NinjaOn: 8
Silver Ringlet: 4
Storybook Page: 5
Sham Rock: 29
Milkshake: 2
Tasty Twig: 148
Power Flower: 8
Powerpack: 1
Glowing Goo: 2
Doublestacker: 98
The Right Stuff: 2
Stark Moonlight: 1
Hot Picture of Emosuke: 16
Emo Rock CDs: 4
Golden Potion: 1
Dog Treats: 1
Minor Village Contract: 20
Hot Picture of Terri: 7
Sealed Kunai: 1
Permanent Items
Survived the Impossible: 1
Ninja Puppet: 1
Giant Fan: 1
Ninja Dog: 1
Shiny Belt: 1
Love Love Paradise: 1
Basic Dustcloak: 1
Hollow Leg: 1
Stealth Suit: 1
Vampire Cloak: 1
Shadow Warrior: 1
Necklace of the First HoCage: 4
Swallowtail Butterfly: 4
Shortbunny: 1
Sannin's Premium: 1
Sandwich Dispenser: 1
Matrix of Leadership: 1
Codec: 5
Soul Glove: 2
Gothic Album: 3
Knightmare Frame: 1
Pink Hair Dye: 1
Desert Robes: 1
Dog Collar: 1
11DBHK's Birthday Hat: 1
Silver Scythe: 1
Desert Shades: 1
Duelist's Eye: 1
Book of Spoilers: 1
R00t Password: 1
Duelist's Aura: 1
Arena Favorite: 1
Dark Band: 1
K-Dog's Headband: 2
Heck Butterfly: 5
Rocket Punch: 1
Warbound: 1
Streamlined Focus: 1
Eye of the Tiger: 1
Letter of Marque: 1
Ancient Blueprints: 1
Quality Boots: 1
Wasteland Cowl: 1
Storm's Embrace: 1
Firebrand: 1
Big Mouth: 1
Knapsack: 1
Huggly Teddybear: 1
Student ID: 1
Bear Coat: 1
Driving Music: 1
M Ball: 1
Restraining Order: 1
Pink Skull: 1
Thunderclaw Ring: 1
Nonja Sidekick: 1
Amalga Eye: 1
Sevens Trophy: 1
Carapace Armor: 1
Lightning Draw: 1
Pirate Hat: 1
B-Class Laser: 1
Broforce: 1
Kaiju Memento: 1
Go Piece: 1
Regalia: 1
Groupies: 1
Mondo Keycard: 1
Soul of Steel: 1
NanuMachines: 1
Lab Coat: 1
Flamethrower: 1
Warrior of Courage: 1
Monkey Cymbals: 1
Warrior of Power: 1
X-Ray Specs: 1
Aura of Gratitude: 1
Perfect Hair: 1
Golden Collar of Courage: 1
Money Printer: 1
Storm's Fury: 1
Golden Star of Power: 1
Nonja Chef: 1
Control Rod: 1
Tire Tracks: 1
Fireworks Launcher: 1
Glowing Mood Ring: 1
Cold Hard Cash: 1
Fruits Basket: 1
Troll Account: 1
CAPSLOCK: 1
The Five Rings: 1
Golden Collar of Power: 1
Warrior of Wisdom: 1
Jazz Hands: 1
Storm's Path: 1
Quality Cookware: 1
Crystal Tumblers: 1
Manly Tears: 1
Flaming Spit Technique: 1
Epitaph of the Twilight: 1
Cardboard Hanafuda Deck: 1
Pokey Stick: 1
K-Belt: 1
Remote Scout: 1
Red Water: 1
Avant-Guards: 1
Pokerballs: 1
Boomstick: 1
Spear of Wotan: 1
Makeshift Booth: 1
Ancestor Spirit: 1
Substitute Soul Reaper Badge: 1
Counterfeit Permit: 1
Risky Badge: 1
Chakra Armor: 1
Hacksaw: 1
Polar Star: 1
Goo Stabilization Recipe: 1
Basic Blueprints: 1
The Mark of Eleventy Billion: 1
Average Pistol: 1
Late-Night Snack: 1
Beat-Up Teddy: 1
Basic Ninja Gear: 1
Sascha: 1
Trench Knife: 1
Monster Mask: 1
Sword of the Reaper: 1
Utility Belt: 1
Stripe of Honor: 1
Professor's Hat: 1
Blue Flower Hairpin: 1
Signature

page revision: 2, last edited:
03 Apr 2012 00:56