Xatni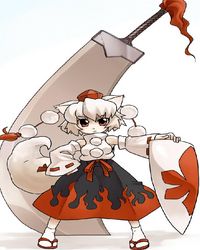 Xatni
Season 2!
Level: 81 - Sannin
Knowledge Village


- The Village Hidden in Academia -
Doujutsu: 13 (+0)
Range: 1-18
Genjutsu: 27 (+20)
Strength:+8 Range: 1-34 Successes: 1
Ninjutsu: 27 (+20)
Strength:+7 Range: 1-30 Successes: 2
Taijutsu: 27 (+22)
Strength:+7 Range: 1-36 Successes: 1
Notice: Information on this is solely the responsibility of the player.
Character Description
Xatni is a petite, delicate-looking youth. However, her frail appearance belies a strong will and passion. Though she is usually kind, passive, and soft-spoken, Xatni has been known to become quite stubborn and unruly if her morals are compromised or her friends are endangered. She loves music, and is thus often seen wearing a pair of thick, sturdy headphones that contrast quite jarringly with the rest of her appearance.
History
Bloodlines
The Power of Greass
Mister Roboto
Eye of the Storm
Allies
Jutsu
Summons
Twilight Guardian
Monkey Butler
Items
Heck Butterfly
Swallowtail Butterfly
Monster Mask
Trench Knife
Professor's Hat
Substitute Soul Reaper Badge
Ninja Puppet
Soul Glove
Blue Flower Hairpin
Sascha
Soul Candy
Sword of the Reaper
Basic Ninja Gear
Utility Belt
Necklace of the First HoCage
Stealth Suit
Ninja Dog
Stripe of Honor
Chakra Armor
Captain's Jacket
Desert Robes
Knapsack
Giant Fan
Matrix of Leadership
Reaper Blood - Bankai
X-Ray Specs
K-Dog's Headband
RingEye
Letter of Marque
Dog Collar
Arena Favorite
Counterfeit Permit
Survived the Impossible
Basic Blueprints
Sannin's Premium
Codec
NanuMachines
Knightmare Frame
Reaper Blood - Bankai
Helper Pin
Hollow Leg
Love Love Paradise
Sandwich Dispenser
Duelist's Aura
Silver Hairpin
Warrior of Power
Fireworks Launcher
Glowing Mood Ring
Claw Card
Persocom
Voice Enslaver
Helix Tattoo
Wasteland Pistol
Book of Spoilers
Firebrand
Pokerballs
Desert Shades
Wasteland Dustcloak
Wasteland Scythe
Duelist's Eye
Destiny Warrior
Flamethrower
Regalia
The Mark of Eleventy Billion
Huggly Teddybear
Wasteland Cowl
Wasteland Boots
Storm's Fury
Pirate Hat
Warbound
Warrior of Wisdom
Groupies
Jazz Hands
Coolness Badge
Aura of Gratitude
Thrill of Battle
Bat of Casper
Polar Star
Officer's Pay
Goo Stabilization Recipe
Streamlined Focus
r00t Password
Bow of Windia
Shovel
Risky Badge
Restraining Order
Nonja Sidekick
Book of Follet
CAPSLOCK
Whip of Rosa
Dartboard
Storm's Path
Gothic Album
Fruits Basket
11DBHK's Purple Shades
Hat of Sakyura
Red Water
Dark Band
Destiny Fulfilled
Troll Account
Themes
28 Dayrolls Later
Floating on Air
Hey, Hey, We're the Ninja!
You See Right Through Me
Battle of Champions
Drunken Fist
Flip Out
Stand By Your Ninja
Teacher's Pet
Warstruck
All Together Now
Good Night, Ninja
Money for Nothing
Seasons Don't Fear
Trophies
True Blood
Ninja World Warrior
Big Three
Knightmare
Groovy
28 Dayrolls Later
Into the Loop
Bottoms Up
Holy Ground
Marked
Monster Hunter
Wheel Winner
Destiny Obtained
It's a Trick
Awesome Abilities
Overwhelming Efficiency Lv. 2
Unflagging Endurance Lv. 2
Thorough Collection Lv. 1
page revision: 14, last edited:
09 Nov 2009 18:22