Slashen00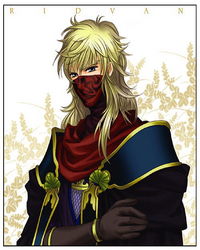 Slashen00
Season 10!
Level: 83 - R00t
Red Death Village Village


- The Village Hidden in The Village Hidden in the Masquerade -
Doujutsu: 27 (+6)
Range: 1-20
Genjutsu: 26 (+27)
Strength:+11 Range: 1-37 Successes: 2
Ninjutsu: 28 (+32)
Strength:+10 Range: 1-37 Successes: 1
Taijutsu: 29 (+34)
Strength:+10 Range: 1-38 Successes: 2
Notice: Information on this is solely the responsibility of the player.
Character Description
A spell-blade of great age, this man controls the elements in a fight to destroy his opponents. His long blond hair is shaggy and sits just below his shoulders, framing a face with hard, blue eyes. His mouth is covered by a red piece of cloth that rises from shoulders to the bridge of his nose. He always wearing gloves to hide his hands, and prefers dark colored clothing. He dresses in a fine cloth, clothing that looks ever formal yet does not hinder him in combat. His boots come to steel toes with rivets in the end for combat, jarring drastically with his outfit. He always rattles when he walks due to hidden knives and the chain-mail under his shirt.
History
Taught by his uncle to control the elements at the ripe age of seven, Zigbar quickly became accustomed to the use of nature as well as a sword. His uncle also taught him an invaluable skill: by throwing knives around opponents in battle, he could accomplish two things— wound the enemy with the knives once he threw them, then later he could use wind energy to make the knives "alive". The knives could then attack the enemies with sharp, quick flights, never falling to the ground while Zigbar kept after his opponent. Zigbar learned such skills as this for many years before his uncle passed down one final lesson— the lesson of longevity. Seeing that his powers were fading with old age and noticing Zigbar's potential, the uncle sealed his soul into a gem, leaving it for Zigbar. Once Zigbar touched the gem with his left hand, it fused with his him. Panicking as the stone absorbed into his hand, Zigbar grabbed at the gem with his right hand. As a result, both arms were afflicted to look like a starless night sky, darker than dark and blacker than black. He has lived for over 400 years, and has become tired and jaded over the years. He now resides in the Red Death Village under the leadership of the Kaiju Crusader, loyally following the man into any fray and action— and berating the Kaijukage whenever laziness begins to set in.
Bloodlines
Legacy
Eye of the Storm
True Blood of the Reaper
The Power of Greass
Wasteland Disease
Mysterious Power
Allies
63
Techniques and Jutsu
25
Summons
Twilight Guardian
Mr. Orange
Super Frog
Sickle Weasel
Permanent Items
Survived the Impossible
Piece of the Action
Pat on the Back
Aviator Goggles
11DBHK's Gold Necklace
Monster Mask
Stripe of Honor
Heck Butterfly
Swallowtail Butterfly
Professor's Hat
Ninja Dog
Giant Fan
Love Love Paradise
Necklace of the First HoCage
Utility Belt
Blue Flower Hairpin
K-Dog's Headband
Sword of the Reaper
Knapsack
Ninja Puppet
Soul Glove
Chakra Armor
Trench Knife
Helper Pin
Fireworks Launcher
Sascha
Stealth Suit
Matrix of Leadership
Jazz Hands
Letter of Marque
Codec
Basic Blueprints
Thrill of Battle
Wasteland Pistol
Basic Dustcloak
Hollow Leg
Goo Stabilization Recipe
Silver Hairpin
Coolness Badge
Warbound
Sevens Trophy
Eye of the Tiger
Warrior of Courage
Risky Badge
Wasteland Dustcloak
Silver Scythe
Arena Favorite
Desert Shades
Ancient Blueprints
Fur-Lined Boots
Storm's Embrace
Shiny Belt
Desert Robes
The Mark of Eleventy Billion
Dog Collar
Knightmare Frame
Monkey Cymbals
Dark Band
Sandwich Dispenser
11DBHK's Purple Shades
Substitute Soul Reaper Badge
Destiny Warrior
Hat of Sakyura
Whip of Rosa
X-Ray Specs
Warrior of Power
Duelist's Aura
CAPSLOCK
Book of Follet
Storm's Fury
Bat of Casper
Officer's Pay
Glowing Mood Ring
Streamlined Focus
Pirate Hat
Sannin's Premium
Cowl of the Second HoCage
Golden Star of Courage
Storm's Path
Warrior of Wisdom
Golden Band of Wisdom
Ninja-Mas Star
R00t Password
Duelist's Eye
Restraining Order
Golden Band of Power
Gothic Album
Money Printer
NanuMachines
Tire Tracks
Pistol of Repeating
Dustcloak of Sneaking
Groupies
Scythe of Razing
Boots of Walking
Solid Shades
Perfect Hair
Merchant Sigil
Aura of Gratitude
Claymore
Student ID
Hacksaw
Magical Wand
Plug Suit
Firebrand
Dartboard
Persocom
Sight Beyond Sight
Vampire Cloak
Creepy Love Letter
Late-Night Snack
Granola Camouflage
Golden Star of Wisdom
Pink Skull
Polar Star
The Five Rings
Rocket Punch
Pokerballs
Soul of Steel
Bear Coat
Pink Hair Dye
Carapace Armor
Party Animal
Golden Collar of Wisdom
Loyal Sacrifice
Nonja Sidekick
Golden Star of Power
Counterfeit Permit
Red Water
Lab Coat
K-Belt
RingEye
Big Mouth
Power Over 9000
Remote Scout
Regalia
Soul Candy
Captain's Jacket
Hall Pass
Thunderclaw Ring
Huggly Teddybear
Epitaph of the Twilight
Time Reversal Cube
Nonja Chef
Amalga Eye
Parting Gifts
Ceramic Mahjong Set
11DBHK's Birthday Hat
Makeshift Booth
Ancestor Spirit
Golden Collar of Spirit
Eclipsed
Troll Account
Golden Collar of Power
Golden Band of Courage
Boomstick
RingEye
Pizzawitch Uniform
Something Good
Substitute Soul Reaper Badge
Soul Candy
Captain's Jacket
Hall Pass
Fruits Basket
Spear of Wotan
Polyester Delivery Jacket
Tattered Driving Gloves
License to Speed
Reinforced Delivery Hat
Reaper Blood - Bankai
Risky Coffee
Aromatic Grass
Tri-Edge
Book of Spoilers
Daybreak
555 Phone
Functional Keychain
Pika-Bike
Basic Ninja Gear
Themes
Floating on Air
Hey, Hey, We're the Ninja!
Killer Montage
Reach for the Sky
The Flash
What The Crap
You See Right Through Me
You Spin Me Right 'Round
28 Dayrolls Later
Battle of Champions
Drunken Fist
Flip Out
Lucky Sevens
Nothing is Happening
Stand By Your Ninja
Teacher's Pet
Warstruck
All Together Now
Goodnight, Ninja
Money for Nothing
My Name Is
Phoning It In
Seasons Don't Fear
Write it Down
Trophies
Big Three
Bottoms Up
Head of the Class
Holy Ground
Into the Loop
Knightmare
Loop the Loop
Marked
Monster Hunter
Ninja World Warrior
True Blood
Wheel Winner
Avid Reader
Chillin' With 11
Groovy
It's a Trick
Man Purse
R00t
Rune Encrusted
Shadowboxing
Shoop the Loop
Spin to Win
Super Arena Wars
Threepeat
28 Dayrolls Later
Do a Barrel Roll
Friendly
Full of It
Golden
Stormy
Awesome Abilities
Unparalleled Intelligence Lvl 2
Overdrive Lvl 2
Limitless Focus Lvl 3
Goals for this Season/Upcoming Seasons
S9- Get Monochrome to loop for Eclipsed (complete)
S9- Obtain 1mil and all golden items before looping (1/2 complete; going to do the 1mil with r00t help)
S9/S10- Hack 5 people to unlock final key to One Sin (complete)
S10- Get R00t Rank (complete)
S10+- Either power loop or begin killing phases— from here, the sky's the limit (Taking a swing at Jet Set for PW— then power loopage)
S??- Begin Pizzawitch after getting all minor and maybe all major Kaiju drops (already started)
S??- Get Nandeshiko— yes, I don't have her yet -_-
S??- Start getting some bloody S-Ranks on WorldKai!
S??- FINALLY BEAT LIL' RACK IN MAJHONG NOW THAT I'M LEARNING HOW TO PLAY RIGHT!!!! >.< (Complete S9… Gotta do it again S10+) (Update: S10— got TACOS, now I'm working on Level 6. Woohoo!)
Signature

page revision: 16, last edited:
09 Sep 2010 21:28