Glennos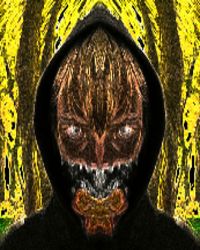 Glennos
Season 4!
Level: 93 - R00t
Void Redux Village


- The Village Hidden in The Breach -
Doujutsu: 29 (+3)
Range: 1-20
Genjutsu: 31 (+31)
Strength:+11 Range: 1-39 Successes: 2
Ninjutsu: 31 (+31)
Strength:+11 Range: 1-38 Successes: 2
Taijutsu: 31 (+35)
Strength:+11 Range: 1-40 Successes: 3
Notice: Information on this is solely the responsibility of the player.
Character Description
Glennos is a slim, 1,78m high male ninja, 20 years of age. He wears a broad metal bracelet on his left arm instead of a headband and always wears a mask of a dragon-like demon and a hooded black cloak. On his left hip he wears a chain of chakra-infused silver that is partially chained to the sheath of his zanpakuto, Ankokudzura. When releasing his chakra in intense situations his sword seems to want to break free from the chain and Glennos starts to slightly emit a black smoke from his cloak.
History
As a young boy it was clear that Glennos had many talents, especially in Ninjutsu, Genjutsu and sword fighting. Although this was very clear, nobody could really help him develop his skills for Glennos grew up in a poor family. And soon after he would attend his first year of ninja-school his father left and his mother quickly remarried another. Not knowing what to do Glennos' self-esteem dropped and soon he was at the bottom of his class and everyone made fun of him.
When the Chunin-exams came close he started noticing his power again, after many lessons his step-father gave him trough the years and the loving care of his mother he noticed how good he was at ninjutsu and genjutsu and soon he started preforming better at missions. But fate struck once more during the Chunin-exams. During an attempt to surprise attack an enemy ninja he was placed under an extremely powerful genjutsu. The genjutsu showed him his biggest fear, the fear of being left behind by all he cared for. Not being able to do anything and shocked in fear he blacked out. When he awoke he was shocked that the enemy that attacked him was lying knocked-out by his feet and that a strange black smoke seemed to disappear before his eyes.
Glennos cleared the exam round and went looking for an explanation for what had happened. He couldn't find anything until he woke up that night feeling a strange energy in his room. And when he looked in the mirror of his room he saw it. A black demon emitting a black smoke-like energy from his body stood behind him. But when he looked closer he saw that the demon was not standing behind him, but actually came from his aura.
Seconds later, Glennos stood in a dark room, walls covered with tubes looking like blood-vessels and the demon now standing before him. The demon spoke, "I am …………" "I am the shadow of yourself that you suppressed all these years and now I'm here to take what is rightfully mine." The demon attacked. The fight, however didn't last long. Although the demon was faster and stronger than Glennos it seemed it had a hard time coming close to Glennos and soon Glennos also realized that his attacks didn't work on this foe. There was but one thing to do, a sealing jutsu, if Glennos was right this room was the dark corner of himself in which the beast had lived and thus he locked the beast to the walls of the room leaving it screaming in fury. When the darkness faded Glennos held a sword in his hand and the dark aura had turned into a hooded cloak.
Since then Glennos has changed, he became more silent, more accurate and above all much stronger.
Not much more can be said about Glennos, although he seems to have locked the demon and gained control of it. People think there is more behind his mask and under his cloak then it seems, but only he knows for sure if and what that is.
Z-abilities
Careful: 5
Cleave: 5
Digger: 4
Engineer: 5
Gardener: 4
Healthy: 5
Immune: 5
Jumpy: 5
Medic: 4
Perceptive: 4
Runner: 5
Sniper: 5
Speedy: 5
Thorough: 5
Toughness: 5
Bloodlines
RedEye/WhiteEye/Legacy of the Hero
Eye of the Storm
Not Wasteland Disease
The Power of Greass
The Trade
True Blood of the Reaper
Permanent Items
Basic Ninja Gear
Utility Belt
Knapsack
Trench Knife
Stealth Suit
Giant Fan
Pet License
Pet - Cave Puppy
Dog Collar
Ninja Dog
Ninja Puppet
Love Love Paradise
K-Dog's Headband
Chakra Armor
Counterfeit Permit
Monster Mask
Stripe of Honor
Sannin's Premium
Necklace of the First HoCage
RingEye
The Five Rings
Gothic Album
Pink Hair Dye
Restraining Order
The Note
The Tote
Soul Glove
Sword of the Reaper
Soul Candy
Swallowtail Butterfly
Heck Butterfly
Blue Flower Hairpin
Silver Hairpin
Hollow Leg
Reaper Blood - Bankai
Substitute Soul Reaper Badge
Desert Robes
Captain's Jacket
Hall Pass
Awesome Pants
Dark Band
Ancestor Spirit
Loyal Sacrifice
Sight Beyond Sight
Arena Favorite
Shadow Warrior
Warrior of Courage
Warrior of Wisdom
Warrior of Power
Eye of the Tiger
Jazz Hands
X-Ray Specs
The Mark of Eleventy Billion
M Ball
Letter of Marque
Duelist's Aura
Duelist's Eye
Risky Badge
Warbound
Thrill of Battle
Officer's Pay
Streamlined Focus
Matrix of Leadership
Pinchy Claw
Pompadour
Ten-Ton Hammer
The Glow
Pirate Hat
Golden Band of Wisdom
Golden Band of Power
Golden Collar of Power
Golden Star of Power
Professor's Hat
Codec
Glowing Mood Ring
Goo Stabilization Recipe
Sascha
Sandwich Dispenser
Fireworks Launcher
Flamethrower
Nonja Sidekick
Nonja Chef
Hat of Sakyura
Bow of Windia
follet Book of Follet
Whip of Rosa
Bat of Casper
CAPSLOCK
Ninja-Mas Star
Creepy Love Letter
11DBHK's Birthday Hat
Shortbunny
Dartboard
Sevens Trophy
Cardboard Hanafuda Deck
Tire Tracks
Senjutsu Reserves
Pokerballs
Shiny-Belt
Power Over 9000
Polar Star
Vampire Cloak
Fruits Basket
Go Piece
Huggly Teddybear
Student ID
Money Printer
Bear Coat
Beta Reader
Cold Hard Cash
Persocomp
Big Mouth
Red Water
Book of Spoilers
Monkey Cymbals
Regalia
Time Reversal Cube
Knightmare Frame
PizzaWitch Uniform
License to Speed
Reinforced Delivery Hat
Polyester Delivery Jacket
Stitched Driving Gloves
Functional Keychain
Basic Blueprints
Ancient BlueprintsThe Cote
Solid Shades
Cowl of the Second HoCage
Dustcloak of Sneaking
Scythe of Razing
Pistol of Repeating
Boots of Walking
Storm's Path
Storm's Embrace
Storm's Fury
R00t Password
Epitaph of the Twilight
Risky Coffee
Aromatic Grass
Tri-Edge
Spear of Wotan
Voice Enslaver
Card Badger Hat
Tangerine Pantsu
Cheeky Stop Sign
555 Phone/Dresden's File/ElevenCanon/Enormous Hammer/Framed Certificate/Manly Tears/SuperChunin/Tiny Bear Pistols/Sleek Keel
Themes
Opening:
Ascension
Floating On Air
Hey, Hey, We're the Ninja!
Killer Montage
Reach for the Sky
Say My Name
The Flash
What The Crap
You See Right Through Me
You Spin Me Right 'Round
Battle:
28 Dayrolls Later
Battle of Champions
Drunken Fist
Emo Rock Ballad
Flip Out
Lucky Sevens
Nothing Is Happening
Stand By Your Ninja
Teacher's Pet
Warstruck
Whiny Grrl 'Punk'
Ending:
All Together Now
Good Night, Ninja
Money For Nothing
Phoning It In
Seasons Don't Fear
Write It Down
Allies
Techniques and Jutsu
Soul Reaper Style: Yami o kaiho, Ankokudzura
Escape Jutsu
Projectile Weapons: Kunai
Projectile Weapons: Shuriken
Exploding Tags: Activate
Disguise Jutsu
Clone Jutsu
Epic Dog Urination Technique
Kido: Metalcalypse
Kido: Slayer
Kido: Iron Maiden
Diagnosis
Rock On: Spinal Tap
Rock On: Band Camp
Rock On: Spider Man
Rock On: Baby Got Back
,and more.
Summons
Trophies
Big Three
Bottoms Up
Head of the Class
Holy Ground
Into The Loop
Knightmare
Loop The Loop
Marked
Monster Hunter
Ninja World Warrior
No Sleep 'Til
True Blood
Wheel Winner
Avid Reader
Groovy
It's A Trick
Man Purse
Mo' Money
R00t
Rune Encrusted
Shadowboxing
Spin to Win
Summertime
Super Arena Wars
The Unthinkable
Threepeat
WonderPets
28 Dayrolls Later
Stormy
Awesome Abilities
Bottomless Appetite: Level 3
Overdrive: Level 1
Shattered Limits: Level 2
Unflagging Endurance: Level 1
Signature

page revision: 81, last edited:
25 Aug 2016 18:43