Blazer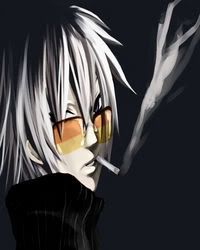 Blazer
Season 3!
Level: 51 - Jounin
Neo Blazon Village


- The Village Hidden in Reborn Power -
Doujutsu: 0 (+0)
Strength:+0 Range: 1-0
Genjutsu: 17 (+14)
Strength:+4 Range: 1-16 Successes: 1
Ninjutsu: 17 (+14)
Strength:+3 Range: 1-16 Successes: 1
Taijutsu: 17 (+16)
Strength:+3 Range: 1-16 Successes: 1
Character Description
A quiet, shady character. Long black cloak, with a huge white sword slung across his back. Mysterious dark face.
History
His origins are unknown to many, except a minuscule amount of people.
Bloodlines
Legacy of the Hero
True Blood of the Reaper
Wasteland Disease
The Trade
Allies
Summons
Techniques and Jutsu
Archer-Style: Dragonforce
Bring Down The House Jutsu
Clone Jutsu
Disguise Jutsu
Epic Dog Urination Technique
Escape Jutsu
Exploding Tags: Activate
Fire Style: Fireball Jutsu
Inner Monologue
Kido: Iron-Maiden
Kido: Metalocalypse
Kido: Slayer
Mind Body Switch Technique
Ninja Art: Hottie Regeneration
Projectile Weapons: Shuriken
Projectile Weapons: Kunai
Robogirl Style: Leek Spin
Soul Reaper Style: Rise, Seiryuu!
Sexy Jutsu
Welcome To Good Burger
Can Of Whoopass
Soul Reaper Style: Sense Weakness
Rock On: Double Trouble
Flying Thunder God Technique
Items
Not worth the effort of listing.
47 Perm Items.
Themes
Opening
Hey, Hey, We're the Ninja!
Floating on Air
Killer Montage
What The Crap
Battle
Teacher's Pet
Stand By Your Ninja
Flip Out
Lucky Sevens
Battle of Champions
Warstruck
Drunken Fist
Nothing Is Happening
Ending
Good Night, Ninja
Money for Nothing
All Together Now
Seasons Don't Fear
Phoning It In
Trophies
Somebody's Watching You!
Welcome to the Other Side
Signature

page revision: 12, last edited:
23 Sep 2008 17:38