AneiDoru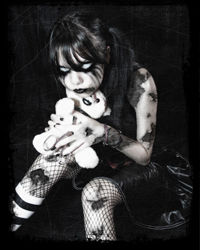 AneiDoru
Season 4!
Level: 130 - R00t
God Module Village


- The Village Hidden in In Viscera -
Doujutsu: 0 (+0)
Range: 1-0
Genjutsu: 0 (+0)
Strength:+0 Range: 1-0 Successes: 0
Ninjutsu: 0 (+0)
Strength:+0 Range: 1-0 Successes: 0
Taijutsu: 0 (+0)
Strength:+0 Range: 1-0 Successes: 0
Notice: Information on this is solely the responsibility of the player.
Character Description
History
~ Fist village ever joined: Tsubasa. (now Touha Shi)
~ Left Tsubasa after IRC Drama, joined Threatdown (now The Word).
~ Got up to Vice-Kage in Threatdown, made an alt sent it to Eulers but was asked by Fax to join Anansi, joined Anansi (now Malcanthet), got Vice-Kage status there.
~ Anansi got into a war with The Real United Nationz (And AneiDoru still hates JBonez with a burning passion to this day.)
~Went over to Wiki Village for a bit to get Jonin.
~ Snuck into Deadly to get StI for AneiDoru.
~ Made a third account, had it join Hiro Gama, then got coaxed into leaving Hiro Gama for Waterfall (now Godaiyou)
~ FINALLY left Godaiyou after a whole lot of drama. Joined Hinamizawa. (Hinamizawa is freaking awesome, AneiDoru really misses it there)
~ Said her goodbyes to Hinamizawa when Colbert directed her to look over what Shin Goji would do in Flare Star.
~ Pulled third alt out of Hinamizawa and planted it in Threatdown, sent AneiDoru to Flare Star, got vice permissions there as well as in Threatdown.
~ Got carried away in Flare Star and became Flare Star's #1 invader (still regrets helping Shin Goji…)
~ After Flare Star became Alpha Dog and got Epic Monument, left there in a flash and made God Module village.
~ Did the Impossible Mission and made Spooky Village on October 31st.
~ Keeps tabs on her village a lot, and has an Industrial Video of the week.
~ Spooky Village is currently in NRF, and is looking for villagers.
~ DeeFect left The Word and went to Maou, JiggySama left Nevermore and went to Death Note, Maou exploded and became Dood and I decided to keep DeeFect there.
Bloodlines
Not Wasteland Disease
Eye of the Storm
True Blood of the Reaper
WhiteEye
The Power of Greass
The Trade
Allies
A Lot
Techniques and Jutsu
A Lot
Summons
Items
That's for AneiDoru to know and you to find out.
Themes
Ascension
Seasons Don't Fear
Not telling the rest
Trophies
Aim for the Top
Big Three
Bottoms Up
Goth Goth Loli Loli
Holy Ground
Into the Loop
Knightmare
Loop the Loop
Monster Hunter
Ninja World Warrior
True Blood
Wheel Winner
Destiny Obtained
Man Purse
Feud Starter
Stormy
Awesome Abilities
Shady Dealings lvl. 3
Signature

page revision: 33, last edited:
12 Mar 2010 01:23